Guest Blogger: Bryan Christopher Williams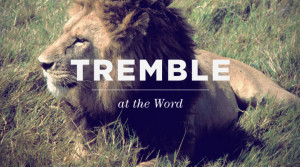 The words in the Bible are taught to be alive and active. We are taught that all scripture is God-breathed and useful for many different reason. We are instructed to follow the commands of the bible if we genuinely Love the Lord. From childhood, we read and hear the stories of the biblical legends like Abraham, Noah, and Moses, but do we actually believes these stories? Do we base our lives on the scriptures that we read and study?
In the old testament, Isaiah enters into the home stretch of His prophecy by reminding us of this amazing passage of scripture:
"Heaven is My throne, and earth is My footstool. Where is the house that you will build Me? And where is the place of My rest? For all those things My hand has made, and all those things exist," says the LORD. "But on this one will I look: On him who is poor and of a contrite spirit, and who trembles at My word…" Isaiah 66: 1-2
We serve a BIG GOD! A God that sees Heaven as merely a throne and earth as a simple footstool. I personally cannot even fathom the massive earth, that over 7 billion people walk around on each day, being a footstool! The Lord isn't amazed by the churches and ministries that we attempt to build and grow. This scripture gives us a clear explanation of what the Lord is looking for. "On him who is poor and of a contrite spirit, and who trembles at My word…"
God is looking for someone who understands their unworthiness of His presence, a heart that is humbled at the thought of serving a Great and Powerful God, a spirit that is at a place of repentance and ready to be cleansed and renewed. The Lord wants to abide in a heart that takes His Word seriously. All of His Word, not just passages that work for our advantage. He not only wants us to believe the promises of Heaven, grace and mercy, but also understand the realness of the Hell, judgement and truth that often cuts us deep.
Questions to Ponder:
Do you believe and operate in the knowledge of those biblical truths stated above? Do you desire to be a person with a contrite spirit? Are you reading the Word of the Lord with fear, reverence, and humility? Do you truly accept and believe the reality of both Heaven and Hell, and that both the Blessings and Curses are real?
For more of BryanChristopher "Click Here"
Tweet
Comments
comments
Powered by Facebook Comments