My Story: Part 1.. Single, Saved, and Celibate
Guest Blogger:  Ashley Joy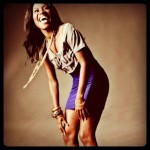 I don't think there's any instructional book that can give you hands on tutorial on how to be single. Life's best lesson in my eyes is through experience. Recently I have had the opportunity to speak to many women both young and older whose curiosity has driven them to ask me numerous of questions on my decision to stay both single and celibate. I find Joy in sharing my story and I pray I can be of service to if not one at least many young ladies. Part 1 will discuss my story and Part 2 I will give you my applicable ways I stay focus on becoming this woman of virtue.It was late 2008 when I experienced a break-up with my ex-boyfriend that left me both devastated and heart broken. I was very emotional and I felt loss, insecure and confused. It was only after I've realize that in my relationship I was trying to find a sense of fulfillment-getting married was my end goal. The relationship was my security, and it controlled my sense of happiness. Instead of finding contentment in my singleness I started to date.
Dating numerous of men from different backgrounds,  age groups and beliefs was something different for me. Throughout that process I found myself compromising both my standards and values all for the pursuit of "love and happiness." The dating process was draining and repetitive.  I was tired both mentally and spiritually. My last string with dating was in early 2010 I was stood up by for dinner by a man I was dating for 3 months. That was a wake up call for me that I had to do something different something better. That night I prayed and cried out to my father and laid before Him my frustrations, fears and insecurities. As I was crying I felt the Holy Spirit whisper to me "Give me your whole heart daughter, I want all of you." That day, moment and prayer changed my life forever.
"The unmarried woman concerns should be to pleasing the father" 1 Corinthians 7:34
God showed me that He alone should be my fulfillment. I've failed miserably in my pass relationships because I was trying to be the Author of my own Love story. I was trying to look for a Man that would "complete" me when I should have been whole already. I was wasting precious time finding the right one when I should have been focused more on becoming the right one. And each time I gave my body, spirit, and emotions away I gave  piece of my treasure that I could never get back.
Im traveling down a road so few modern day woman travel. I've decided to do it God's way so that He can get the glory. I desire a beautiful, lasting, God-written love story with a Man who reflects my father in Heaven and would also one day be head over my life. I traded in this false imagery that's displayed through music, reality TV shows and movies for a holistic walk that consists of purity, virtue and patience.
Today, I can honestly say a relationship with a guy is no longer my end pursuit. I truly believe that in the right season my heavenly father will bring me a guy that is more than I can ever dream. I don't have to go searching, dating or settling for imitations. My Husband will find me and when he does I will recognize him because he's the one I prayed for. I am enjoying my single life while learning what it would take to be a God-fearing wife, mother,  and servant leader from both my mother and women who are wise in that area. I love spending my time in worship, and I love when God reveals to me what I need to do in order to be greater in certain areas.
                                  I can honestly say this truly is the greatest Love of All.


Sincerely,

Ashley Joy
Tweet
Comments
comments
Powered by Facebook Comments