Learn To Dance In The Rain
"Life is not about waiting for the storm to pass, it's about dancing in the rain." Unknown
Oftentimes – life seems to hand us so many negative blows. In fact, just when you think things have gotten really bad, they get worse. One thing I've learned about God … well, a lot of things but this one in particular right now is that God is Sovereign and Providential. That simply means that nothing happens outside of the perimeter of His will and it's all good.
I hear you, though. Your question remains, how do I learn to dance when there's nothing to dance about? My friend, there's always something to dance about. When you understand that the outcome will work out in your favor, and that the rain is just temporary, and that whatever you're going through, God will cause it to work together for your good – you will learn to dance too! In fact, dancing in your trials tells God that you trust Him and is an insult in the face of your enemies. Here are a few dancing scriptures to stand on. I'll let you pick the music. But, my friend – Dance, Leap, Jump, Twirl & Spin! Whatever you do, learn to dance in your rain!
It is good for me that I have been afflicted; that I might learn thy statutes. Ps 119:71 Weeping may endure for a night, but joy cometh in the morning. Ps 30:5 But the more they afflicted them, the more they multiplied and grew. Ex 1:12 No weapon that is formed against thee shall prosper, and every tongue that shall rise against thee in judgment thou shalt condemn. Is 54:17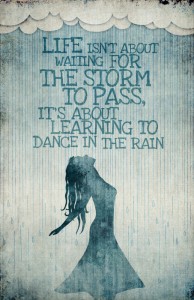 And we know that all things work together for good to them that love God, to them who are the called according to his purpose. Rom 8:28 And not only so, but we glory in tribulations also: knowing that tribulation worketh patience; And patience, experience; and experience, hope: And hope maketh not ashamed; because the love of God is shed abroad in our hearts by the Holy Ghost which is given unto us. Rom 5:3-5 In everything give thanks: for this is the will of God in Christ Jesus concerning you." 1 Thes 5:18 Sooooo My Friend – Dance, Dance, Dance …. Yes, In The Rain!
Rickey E. Macklin "Preparing You To Live Victorious!"
Tweet
Comments
comments
Powered by Facebook Comments