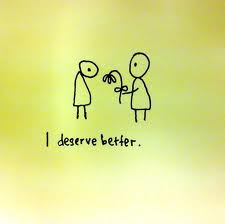 Are you a person that's been settling in relationships? Tired of being alone so you selected from Eanie, Meanie, Minie & Moe and ALL of them are jacked up?!  Thought you were selecting from the "cream of the crop" but all you've been getting has been "cream"?    Are you with someone right NOW and you KNOW you can do a whole lot better?  Be honest with yourself.  If so, why are you still there? ??   Just saying …  If a person can do better, why won't they?   Is it the kids they've had by the person?  Is it a self-esteem issue?   Is it a loneliness issue?
Personally speaking, I know what it means to be alone and not want to be.  However, I also know what it means to not be in a relationship because you want to please God by making the right choice.   Yeah, I'm sure people will say that it's because "you're too picky" but they don't know your walk with God.   They don't know what God has told you.  They don't know the sacrifices you've made just to please God.
At some point in your life, you just refuse to compromise any longer!   I just spoke with a married friend of mines on yesterday who assured me they would trade places with me if they could.   Funny how singles folks want to get married and married folks wish they could be single again.   I believe there's a lesson in this people!
So, back to the article topic – (smile) …   If you're tired of "Mr and Ms Eanie" and tired of  "Mr and Ms Meanie", it's time to do something about it.  If you know you deserve better, that means you understand you value – that's a good thing.   Now, it's time to translate that into making the right choices.
Points of Emphasis:
A child/children are NOT a reason to stay in a jacked up relationship
Limited choices do NOT mean you have to choose between them.  The world is much larger than the towns you live in – Somebody say, Amen!
Loneliness spells a much bigger issue.   When you understand your value and you understand your worth, loneliness no longer has residency in you.  The reason why is because your life is now filled with God-given purpose and meaning.
God doesn't create junk!  Translation:  You are a precious commodity and have been paid for with the greatest price that can ever be paid (Jesus' death on the cross).  Royalty deserves Royalty
When you understand the above, it should chip away at any low self-esteem issues you're battling too
So, if you deserve better – then wait on that better.  Don't waste your time, emotions and energy on a dead-end relationship.
Please leave your comments below regarding this subject.
Rickey E. Macklin  
"Preparing You To Live Victorious!"
Tweet
Comments
comments
Powered by Facebook Comments