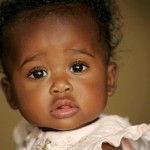 Isn't she adorable? I thought so too. However, having a baby won't make that man stay!  In fact, you can have THREE more that looks just like her and he still won't stay.  Ladies, you simply gotta know your worth.  A grown, irresponsible, non-appreciative, disrespectful man is NEVER a tradeoff for bringing a child into this world. In fact, there is no tradeoff that's worth it.
Bottom-line Point: Until he is ready to be with you, he won't.  You can buy him nice things; let him move into your apartment; let him use your car; and conveniently give him sex whenever he wants it – and he'll still either leave or cheat on you if in his heart he is not committed.
Recommendation: Let Him Go On The Train He Rode In On! #RealTalk
Here's what I want you to do next …
If this short article has blessed you, click the tweet button or facebook share below to share it with others.
Share your comments below.
Sign up on your right for my free 6 Days to Optimizing Your Lifedownload.  A 6-Day Devotion to helping you become the Best You!
Keep Living Your Life On Purpose!
Rickey E. Macklin
Tweet
Comments
comments
Powered by Facebook Comments