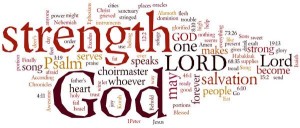 God's grace is sufficient for you and His strength is made perfect in your weakness.
Hey folks, have you ever felt like your back was against the wall, you didn't have a lick of fight left in you and felt like you were at you lowest ebb?  Remember the story of Rocky or how about the Karate Kid?  They both faced insurmountable odds!  Listen, when all seems lost and you've used all the strength you have within you – I just want to say that you're in a good place for God's intervention.
God specializes in these unique situations.  When all seems lost and no amount of human strength can get you through, God can.   Mysteriously, God has a way of letting odds stack against us and stepping in when he knows we need Him the most.
How shall I put it?  When the natural runs out, allow the SUPER Natural to step in.  Yes, that's God!  My friend – it is in our weaknesses that God's power is displayed.  The truth is as long as "we can" many of us would never turn to God.
No – I am not advocating calling on God only in the event of an emergency.   Some religions actually view that as the major problem with Christianity.  In their eyes, it's viewed as a weak and crutch religion.  In some cases, some view it as a welfare religion because Jesus paid it all.  Of course my view is quite different.  The truth of the matter is – we ALWAYS need God.  We need Him every minute and every hour of our lives.
However, when we call on Him, it shows we are depending on Him and that we need Him.  It shows our faith in Him to do what we can't.  Listen, we did not make ourselves and surely we lack the ability to sustain ourselves.
King David said,
1I will lift up mine eyes unto the hills, from whence cometh my help.  2My help cometh from the LORD, which made heaven and earth.  3He will not suffer thy foot to be moved: he that keepeth thee will not slumber.  4Behold, he that keepeth Israel shall neither slumber nor sleep.  5The LORD is thy keeper: the LORD is thy shade upon thy right hand.  6The sun shall not smite thee by day, nor the moon by night.  7The LORD shall preserve thee from all evil: he shall preserve thy soul.  8The LORD shall preserve thy going out and thy coming in from this time forth, and even for evermore.  (Ps 121)
Well, King David is not alone.  I too look to those same hills of my Creator and if you haven't as of yet – I encourage you to do the same.  I find comfort in knowing that in the times of trouble He will hide me under the wings of His protection.
Come on – Let's be honest.  You know that there are just some things in life you don't have the ability or capacity fix no matter how hard you try.    You cannot fix cancer in your body; you cannot fix a drug addicted child; you cannot fix bosses at work who continuously overlook you; you cannot fix a spouse who cheats; you cannot fix the pain in your heart from a love one passing without you ever being able to say goodbye.  There are just some things in life you cannot fix!   Heeeeey – But I Know Someone Who Can!  In fact, He specializes in these type of situations.
To be honest, God doesn't always remove the pain or remove the danger but He has a way of protecting us while we're going through.  With Daniel, the lions were still hungry and with the three Hebrew Boys the fire was still hot – actually seven times hotter than normal.  However, do find comfort in this my friend –  With God, when you go through your floods of life, they will not overtake you.  And with God, when you go through your fiery trials of life, He will not allow you to be burnt.  And with God, when you walk through the valley of the "shadow" of death, do not fear because God is with you.
Never forget that His grace is sufficient for you and His strength will always be perfect in your weakness.  Jesus died so that we could rely on His strength and not our own.  In fact, to rely on your strength is idolatrous.  It is to suggest that you can handle things on your own.
Having said all of that … now that the natural has reached a point of depletion in your life – please allow the SUPER Natural to intervene.  Call me weak if you want to but I need Him – ever day, every hour, every minute and every second.
Co-Heir & Fellow Servant of Jesus Christ!
Rickey E. Macklin  
"Preparing You To Live Victorious!"
Tweet
Comments
comments
Powered by Facebook Comments