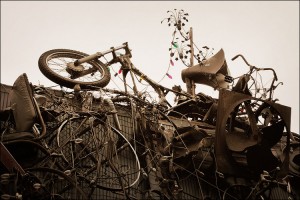 JUNK:   (1) Discarded material, as metal, paper, or rags; (2) anything that is regarded as worthless, meaningless, or contemptible; trash!
Perhaps you've gone through some situations in life where people who did not know your value used and abused you.  Perhaps, even as a child, someone planted some terrible seeds that you were worthless, dumb, stupid and wouldn't amount to much of anything.   Perhaps there were people who took advantage of you.  Or – perhaps it was in your marriage that your spouse convinced you that you were ugly, worthless and were a no good piece of trash.
Well – I'm here with a message for you today folks.  God doesn't make junk!   They were wrong.  I mean seriously wrong about you!   It's sad how people who are going through their own self-esteem issues try and project those things on others.  It's also sad that a person could feel the only way to rise to the top is to keep others under.  I have a problem with that and so does God.
Again  –  if I could say this any clearer I would.  God doesn't make junk.  When God made mankind, He said it was "Very Good!"   In fact, the Bible describes God's views of you this way:
You are the Apple of His eye  – Can't get much better than that ~ Psalm 17:18
You were worth Dying for  – He paid the ultimate price for you ~ John 15:13
He gave His Best for you  – His only begotten Son ~ Romans 8:32
He thinks of you All the time  – Even when you're asleep ~ Psalms 40:5
He takes it Personal when anyone offends you  – That's deep!  ~ Matthew 25:40
He's assigned you Personal Body Guards – Yep … Angels  ~ Psalm 34:7
And to be honest, that's just the beginning.   Never let anyone or any situation in life define you when God already has.  You are incredible and were a part of God's master plan BEFORE He created the earth.   His purpose for your life was not an after-thought.   You are not a piece of junk – You are His masterpiece!   So, the next time someone tries to de-value you, tell them "You must be mistaken – because you have no idea who I am!  God doesn't make junk.  In fact, I am God's Original Masterpiece!"
Rickey E. Macklin  
"Preparing You To Live Victorious!"
Tweet
Comments
comments
Powered by Facebook Comments