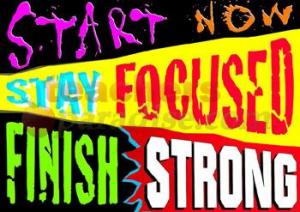 Well its February folks!  Really hard to believe time is flying by so quickly.   Unfortunately, statistics would prove by now that most people who made New Year's resolutions have returned to their "status quo" lifestyles of old habits.
Actually, it's not hard to slip back if you don't keep your vision before you.  I'm not certain if you posted it on your refrigerator, in your cube at work or taped it in the cover of your Bible – but keeping it before you is absolutely necessary.  You need to be reminded daily.  You need to rehearse it.  You need to see it.
Others of you guys may be like me.  I have goals on top of goals on top of goals which will take time to accomplish.  Talking to a couple of friends of mines, I said "I need me a personal assistant and about three interns!  (smile) … just sayn.  As with me, I say to you – plan and organize but take one day at a time.  Do what you can each day and don't become discouraged in the process.  I trust that everything God has purposed in your heart will come to pass "in His time."  Remember that our times are in His hand.  (Ps 31:15)
The worst thing to do is to quit everything because you've become inundated and overwhelmed.  So, keep you five-year plan close.  Keep your one-year plan even closer.  However, keep your monthly and daily goals even closer!  It's a guarantee that if you concentrate on your daily and monthly goals – you'll reach your yearly and five year plans as well.
So, my friend, keep your head up and quickly forget what hasn't happened in the past 40 days because those things are behind you now. (Phil 3:13)  Let's set our focus on the next 325 days ahead but more importantly on one day at a time.
"So teach us to number our days that we may apply our hearts unto wisdom." (Ps 90:12)
Rickey E. Macklin  
"Preparing You To Live Victorious!"
Tweet
Comments
comments
Powered by Facebook Comments